9 Oct '14: ATC SS TTT Entries Open
Published by ATC Multisport on Wed, 08 Oct 2014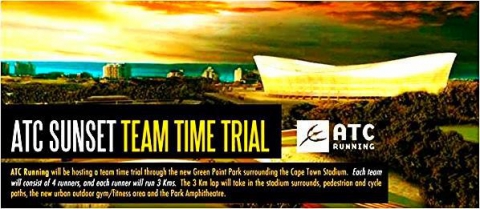 The ATC Sunset Team Time Trial will take place on Thursday 23 October 2014.  
This fun relay, consisting of 4 x 3 Km laps through the Green Point Urban Park, will be hosted at the Hamilton's Football Club.
For now, all you need is your team name and the category you would like to compete in.  Runner details can be provided at a later stage, once you have assembled your team of 4 runners.
There are Club, Corporate, Veteran, Junior and Kids Categories.  This year, we are also introducing a Masters Category!  the winning team in each category will receive a special hand-made floating trophy and New Balance Prizes.
All runners will be timed individually and will receive a special hand-made medal.
For more information and to enter, please visit:  http://www.atcmultisport.club/events/atc-sunset-ttt-oct-2014
Entries are limited to 100 teams (400 Runners).
ATC Members, we need your assistance with the event!  If you would like to help before, during or after the event, please let us know through the following link:
https://docs.google.com/forms/d/1VVvuUv3N4dIlZAzlul02gwKr0RGCRguak-5NrIeq7Eo/viewform
We look forward to seeing you!
ATC Running